Yes, again. Since I had to look back at my blog posts to see when the last time this happened and for med dosages, I thought it would be a good time to update the blog. Eh. We do still have some meds on hand from the last episode a few years ago, but we're contemplating what to do when they run out. Our vet is (surprise!) out of town for the weekend. The Man just got in touch with someone at the hospital who agreed to give him the needed meds, so he is off to get those.

So, update on us: New dog was added to our family the end of June. Weird story since I wasn't even looking to add another responsibility to our full-to-overflowing plates, but I clicked on a link late on a Friday afternoon, and then surfed, and somehow ended up on Petfinder.com. I punched in our zip just for kicks and a dog showed up that I knew needed a home. Any home. Not ours, because, of course, we didn't need another dog. I sent out a plea on facebook for someone to go get the dog. The Man thought it looked like a good dog and told me it was up to me if we got it.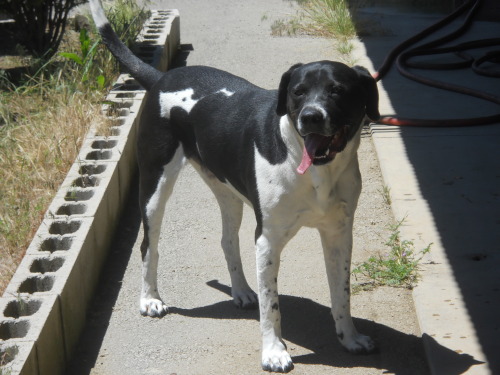 First thing the following Monday morning I called the pound to get more information on the dog. Tuesday afternoon the kids and I went up there just to look. I took the Dog along, too, just in case I wanted to see how they got along. I still wasn't thrilled about getting another pet, but this puppy needed a home.

The lady at the pound said he was a stray that had been there 2 months! She said everyone that came to see him said he was too big, but he was a sweetheart that needed a home. He was a bit bigger than I'd anticipated. I was agreeable to taking him for a trial and the lady said she would waive the adoption fee since she wanted him to get out of the pound.

Since we got him for "free," it didn't hurt quite so bad to stop on our way home to buy a crate, dog dish, leash, collar, and harness. I told myself that even if we didn't end up keeping him, the Dog's 15 year old crate needed to be replaced anyway, so it would be too much of a waste.

The Man laughed at me when we got home. He seemed to recall me telling him in the not so distant past that I didn't want a big dog. OK, so this dog is pretty big. He tipped the scales at nearly 90 pounds. But he is a sweetheart...that runs like a horse...and should have been named something like "Houdini." Instead we named him Painter. No special reason other than it was a name that nobody especially hated, and when he wags his tail (often) he looks like a black dog that dipped his tail in some white paint and spattered it around. J also mentioned something about the amount of drool that comes out of his mouth, but that's kind of gross.

The vet has no clue as to what breed of dog he is. He was advertised as McNab x Hound, but the vet, we, and everyone else agrees that he doesn't have hound in him. The vet said he definitely isn't Chihuahua (hee-hee). The vet guessed that maybe he was McNab x Pyrenees. Possible, but he has short hair. The vet guessed he is probably between 2-3 years old.

I was hoping that he and the Dog would be pals. The Dog is nearly 8 years old, and with all of his poisonings, I don't want to think about his lifespan. The Dog tolerates Painter, but he was quite offended that we didn't ask his opinion before we brought him home. The Dog stayed under the van moping for the first two days after we brought Painter home.

So, a little over a week after we brought Painter home, we left on a 3-week trip. I know...getting a new dog right before a long trip was NOT one of my smarter moments. I marveled at my own stupidity. He did have an excellent dog-sitter while we were gone, and I know he was better off than being caged (or worse!) while we were gone. I don't know how much longer the pound would have kept him!

Our 3-week trip involved leaving home at 7 pm on a Thursday night, driving straight through to arrive in Walla Walla for an 8 am appointment at the college, visiting friends and the Whitman Mission, taking M & J to summer camp, visiting The Man's aunt and uncle, camping in Idaho, back to pick up M & J, camping under the stars in Montana, Little Big Horn, Crazy Horse, Mount Rushmore, Wall Drug, Andrews University in Michigan (and visits with Grandma & Grandpa, aunts, uncles, cousins, and friends), Indiana (another Grandma, Grandpa, aunt, uncles, cousins, and friends), more family in Kentucky, college visit in Tennessee and then we were ready to go home! We left Tennessee on Wednesday morning and drove straight through to the Grand Canyon. We arrived there about 3 pm on Thursday, left at 5, slept about 2 hours at some dinky rest stop between Las Vegas and Reno, and arrived home about 2 pm on Friday. Whew. That last paragraph deserves several blog posts of its own, but considering my blogging habits lately, that will have to do!


Life is too crazy right now to even sort out more blog posts.

I took this video of S yesterday. I dare you to watch it and not smile.